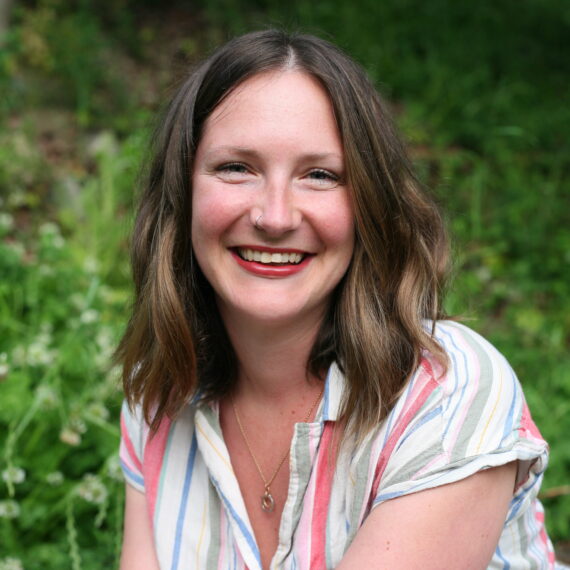 Associate Counsellor

Carly Lauder, RTC
** I am currently accepting new clients for individual and relationship counselling. Please note that I offer online sessions only.
This human life can be wild, mysterious and challenging – stretching us beyond what we believe we are capable of sustaining. We can get stuck, not knowing how to break free from unhelpful patterns or how to cope with the intensity of the feelings we are experiencing.
The good news is that you don't have to do it alone.
​
Together, we can bring compassionate awareness and a deepening understanding to your experience and work together to create the changes you are seeking.
I offer online counselling for individuals and couples. I can support you if you are:
feeling stuck and unable to change
being gripped by painful thoughts or emotions
dealing with grief or loss
struggling in relationship
depressed and lacking motivation
anxious and/or having panic attacks
recovering from trauma or overwhelming life events, including birth trauma
moving through life transitions
experiencing a loss of meaning and purpose
experiencing postpartum struggles and/or needing parenting support
About Me
For as long as I can remember, I have been fascinated with what it means to be human. I would often wander into the woods or sit by the river for hours, taking in the beauty of the natural world, befriending the creatures I would find along the way, while trying to understand my place in the web of it all. Nature was my refuge. It still is.
As a young girl, I was no stranger to the impacts of mental illness & addiction, poverty, and going without. My initiation into the darker nights of the soul came early and unbidden. My own journey with trauma, grief, loss, and heartbreak taught me that I could be a sensitive soul AND resilient. What I remember most are the acts of kindness from friends, teachers, and strangers who gifted me with a listening ear, an outstretched hand, the simplicity of bearing witness. That was when I knew I wanted to be of service – to be a safe place for weary souls to land.
My career began almost 15 years ago with a Diploma in Eastern Therapies & Bodywork. I was deeply inspired by a holistic framework that considered the body, mind, and spirit when it came to health and healing. I taught yoga for over a decade and fell in love with mindfulness & meditation. I attended silent meditation retreats and was eager to understand this mysterious inner world — the source of our pain and suffering AND what makes human beings tick. My students and massage clients would open up to me about their lives. I felt called to study the human mind and heart in a different way and so I became a psychotherapist.
​
After receiving my Professional Counselling Diploma, I deepened my training in attachment and neuroscience with Relational Somatic Therapy. This is a body-based approach to counselling and it was a natural evolution from my background in massage and understanding the mind-body connection.
Counselling Philosophy / Therapeutic Approach
My counselling approach is collaborative and client-centred. I work from a mindfulness and somatic-based approach that seeks to nourish wholeness in body, mind, emotions, and spirit.
My goal is to support you to shift old ways of being and move toward how you wish to be in your life. I aim to bring you into contact with your own inner knowing. I have a deep respect that you intuitively know what is best for you and that we all have a natural ability to heal and grow.
​
In counselling sessions, I will work with you to examine your life, identify any areas where you feel stuck or in need of support, offer helpful skills, tools, and practices, help you to reconnect to your life goals and values, and re-discover your own innate resources for well-being.
Trauma and chronic stress can keep your nervous system locked in a fight-flight-freeze response and block you from experiencing your deepest sense of wellbeing. These stress patterns can interfere with physical health and emotional wellness.​
Relational Somatic Therapy is a body-oriented approach to healing trauma that restores connection to one's authentic self with self-regulation, relaxation, wholeness, and aliveness. I draw from neuroscience, attachment theory, nervous system regulation, mindfulness, parts work, and embodiment practices — all through a trauma-informed and strength-based lens.
Working with somatic awareness can support you to develop an awareness of:
How your thoughts and emotions relate to your inner body responses and sensations
An expanded range of life experiences & choice
An embodied sense of SAFETY and sense of SELF
Resources that nurture and soothe you
The language & wisdom of your body
Together we can hold all of the pieces and parts of your life, see how they relate from a greater perspective and discover the way through with compassion and kindness. Often what lies on the other side of struggle is growth, learning, and a greater sense of meaning and vitality. With guidance and support, you can unwind unhelpful patterns and find a deep sense of peace and empowerment.
Client's Words of Love
"Working with Carly has been an amazing journey. I never thought virtual counselling could be so wonderful. Through our sessions together, things were changing in a subtle, gentle, yet profound way. My self-awareness kept growing, as well as the gentleness towards myself."
"It was very easy to trust Carly. Her approach is respectful and empowering, which is so important to me. I was always able to return to my inner authority. Coming back to my body allowed for the natural intelligence and wisdom that is always there, to emerge."
"Carly's presence is very loving, non-judgemental and spacious. She always gave me the space to explore my inner world at my own pace, while guiding me in a gentle way. ​The trust and faith she had in me was genuine. I felt seen and recognized. I didn't feel that there was anything wrong with me. I felt perfect just as I was with my wounds and strengths. I am grateful because in my experience, not all counsellors have honed that skill.​"
"Each session was unique and creative, where I could explore my felt sense and what I was experiencing through my body. Carly's humility, compassion, emotional intelligence, knowledge and sense of humour are gifts to this world. I am very grateful for the work we did together."
Experience, Education & Training
Professional Designation: Registered Therapeutic Counsellor (RTC #2951), registered with the Association of Cooperative Cooperative Counselling Therapists of Canada (ACCT)
Counselling Therapist Diploma from Vancouver Orca Institute, 2021
200-hr Relational Somatic Therapy Certification, 2021
Eastern Therapies & Bodywork Diploma, 2011
Trauma-informed Yoga Teacher Training (Level 1&2) at Yoga Outreach Vancouver, 2019
300-hr Yoga Teacher Training at Three Winds Academy, 2010
Yoga Therapy Certification at Pacific Rim College, 2011
Availability
I am currently available for online sessions on Tuesdays (11am-3:45pm) and Thursdays (11am-3:45pm / 6pm-9pm)
Session Prices
Individual Counselling: $125 including GST for 60 minutes | $180 including GST for 90 minutes
Relationship Counselling: $140 including GST for 60 minutes | $190 including GST for 90 minutes
Please note: My session fees will increase by $10 as of September 1st, 2023.