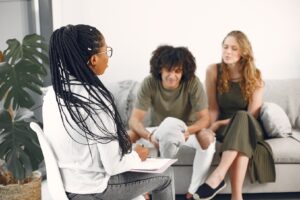 Let's face it – relationships are hard work. It can feel scary to admit this because we equate "hard" with meaning something is wrong. But this is not always true! With intimate relationships, hard can simply mean you need to team-up and find a new way forward together. The challenge is that so many of us don't know how to do this, or when we try, we get stuck or end up in a fight with our partner. This cycle is frustrating and keeps us from finding a way forward.
The relationship counselling we offer is designed to help you and your partner create the kind of relationship you want — whatever that looks like for you. We work with you to identify your personal relationship goals and develop strategies to achieve them. We help you to walk towards a relationship that feels connected, nourishing and fulfilling.
Whether you are in crisis and need help navigating those rough waters; or simply want to strengthen your steady relationship with counselling check-in's (or maybe something in-between) — our relationship counselling can be a great first step towards building what you want, together.
What is Couples Counselling?

First off, couples counselling is no longer just for conventional relationships. Relationships take many forms — dating, married, common-law, co-parenting, polyamorous, open-marriage and more. All people, in all relationships deserve support when they get stuck.
During your counselling journey, you and your partner(s) will have the opportunity to explore your thoughts, feelings, and behaviours in a safe and supportive environment. Our counsellors are trained to help you communicate more effectively, deepen your emotional and physical intimacy, and work through past traumas (both individual and relationship traumas). You will also receive support to navigate life's transitions — such as becoming parents, losing loved ones, and adjusting to retirement and more.
Cookie cutter is not how we do things — every relationship is unique and we tailor our approach to work with your specific struggles and desired goals. Our approach is collaborative, non-judgmental and focused on what you need to make things better, together.
Benefits of Couples Counselling
Couples counselling can benefit your relationship in so many ways — here are just a few:
1. Improved Communication:
One of the most common roadblocks relationships hit is a breakdown in healthy communication. Feeling misunderstood, unheard, or having differing realities are some of the most common struggles we hear about. Couples counselling can help you slow down, communicate more clearly, listen more openly, increase awareness of the underlying issues in the communication breakdown (your own and your partners'), and practice new ways of communicating and connecting.
2. Increased Intimacy and Closeness:
Repetitive struggles and disconnection do not leave much space for closeness or intimacy. Couples counselling can help you identify the underlying issues that are contributing to this disconnection, and develop strategies to help you reconnect emotionally and physically.
3. Conflict Resolution:
When conflict arises in relationship, all good behaviour and healthy strategies can go out the window. It's hard to access the best parts of you when you are "seeing red" or feeling shut down. Much of conflict resolution begins with nervous system regulation, then understanding yourself and your partner(s), and finally making active changes. Counselling can be helpful with all three of these steps.
Why Choose Breathing Space Counselling in Port Moody?

At Breathing Space Counselling, we offer relationship counselling that is responsive to the unique struggles you face in your relationship. Our therapists will work with you and your partner to help you identify the underlying struggles and challenges you face (individually and as a couple) in your relationship and develop new ways forward, together.
Our team of therapists make use of a variety of approaches and modalities – this allows for each couple to receive exactly what they need each time they come to session. Sessions are available in our Port Moody offices or online.
Our therapeutic approach emphasizes emotional safety, empathy, and collaboration. We believe that by working together, we can help you and your partner develop the practical and emotional skills you need to move through your challenges and build a stronger, healthier, more connected relationship – a relationship that will weather the storms of life.
We welcome 2SLGBTQIA+ couples, as well as those in polyamorous or non-traditional relationships.
Contact us today to learn more about how we can help you.