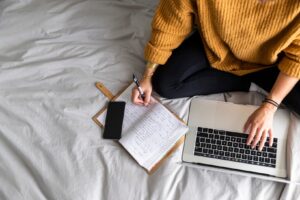 Choosing a counsellor can be an overwhelming task. With so many options available, it can be difficult to know where to start. Here are some tips to help you find the right counsellor for you:
Consider Your Needs:
Before you start looking for a counsellor, think about what you need from therapy. Do you need help with a specific issue, such as anxiety or depression? Do you prefer a certain type of therapy, such as cognitive-behavioural therapy or somatic therapy? Do you need a counsellor who will be sensitive and culturally-affirming to your specific identity? Knowing your needs can help you narrow down your search.
Ask for Referrals:
Personal referrals can be a great way to narrow your search. If you're comfortable sharing that you're looking for a counsellor, ask your primary care doctor, friends, or family members if they can recommend someone and ask them to share why they like them. People you love and trust will likely recommend someone who would be a good fit for you.
Look on Online Directories:
If you don't get any good suggestions by referral, there are many online directories where you can search for a counsellor. In Canada, some of them include the ACCT Online Counsellor Directory, Healing in Colour, South Asian therapists.org, and Psychology Today.
Check with your Insurance Company:
In Canada there are lots of different designations in the counselling field. Check with your insurance company to see which kinds of therapists are covered under your plan. (If your plan covers Registered Counsellors, they should cover the counsellors at Breathing Space.)
Do Your Research:
Once you have a list of potential counsellors, do some research. Go to each counsellors website and read their bio. Look for information about their education, training, and experience.
Consider the Approach & Philosophy:
Different therapists may have different values, approaches and philosophies, so it's important to find someone whose style resonates with you. Some counsellors may focus on problem-solving and practical strategies, while others may focus on exploring emotions and past experiences. Consider which approach aligns with your needs and preferences.
Personal Connection:
Just like in any relationship, you connect with some people more than others. A big part of finding the right counsellor is about finding a good fit. Notice how you feel when you read their bio and look at their photo.
Schedule a Free Consultation:
Many counsellors offer a free 15-20 min phone consultation so you can speak to them directly and get a feel for who they are. This can be a great opportunity to chat with the counsellor, share a little about what you're looking for, ask any questions you may have, and get a general sense of whether or not you connect with this person.
Trust Your Gut!
Ultimately, the most important factor in choosing a counsellor is your gut feeling. When you had your phone consultation, did you feel comfortable talking to them? Did you feel yourself relax and perhaps want to speak to them more, or again? If you have any reservations or doubts, it's okay to keep looking.
Choosing a counsellor is an important decision that can have a significant impact on your mental health and well-being. By considering your needs, doing your research, and trusting your gut, you can find a counsellor who is the right fit for you.
At Breathing Space Counselling, we offer a range of therapeutic services with experienced and compassionate therapists.  Contact us today to learn more about our services and how we can help you on your journey towards healing and growth.