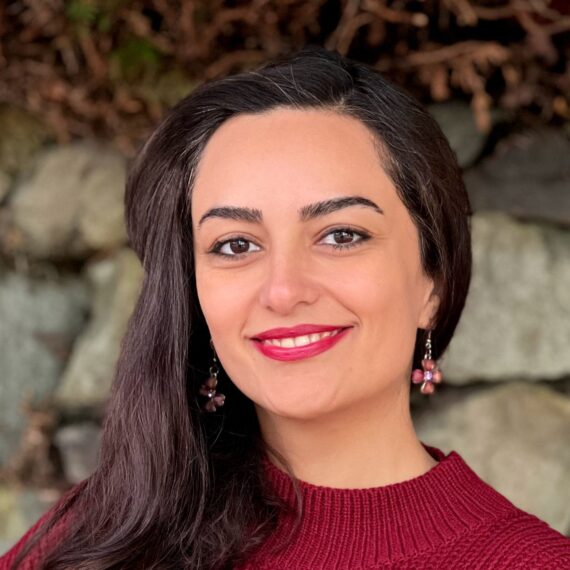 Associate Counsellor

Elmira Fakhr, RPC-c
** I am currently accepting new clients (in-person and online) for individual and relationship counselling. Sessions can be conducted in English, Farsi or Turkish.
درباره المیرا – به فارسی (About Elmira – In Farsi)
Elmira Hakkında –Türkçe (About Elmira – In Turkish)
I am a Registered Professional Counsellor Candidate (RPC-C #4406) with the Canadian Professional Counseling Association (CPCA). I am currently accepting new clients (in-person and online) for individual and couples counselling.
You might find yourself searching for counselling at this time because you are overwhelmed, lost, lonely, feeling powerless, anxious, or depressed. Perhaps you are questioning the meaning of life, wanting to explore your core values or, you desire a deeper understanding of your existence in the world. No matter where you are in your life you have choice – even when it doesn't feel this way. 
We all have a unique journey. I will be there to shine a light on the road ahead so you can see your path, and yourself, more clearly. I offer you my hand so we can walk together – I will be there for you as you face your challenges. You do not have to be alone as we will navigate the way together. 
I offer support in these areas:
Depression and anxiety 

Childhood trauma 

Family issues

Career and environment change 

Immigration and cultural adjustment 

Relationship coaching and recovering intimacy

Recovering from abuse and violence in relationship

Assertiveness and boundary coaching

Parenting issues 

Grief and loss
About Me (English)
I was born and raised in Iran and, in 2017, I made the difficult decision to immigrate to Canada. Restrictions forced onto women by the patriarchal Iranian government made it so difficult to live there that I chose to transition to a new country to give myself a chance at a better life.
After immigrating I went through a massive culture shock – I had to learn to speak and understand a new language, my already difficult marriage underwent more stress, I felt detached from my family, and I got homesick for months at a time. I was then that decided to do something to help myself. 
I have always been interested in the human psyche. In my hometown of Tabriz in Iran, I used to support local youth with the emotional challenges they experienced in their young lives – from family and relationship issues to the discovery of their wants and dreams. I decided to further my education so, I choose to do a Diploma of Professional Counselling at VCCT. 
As I learned more about how to support others I also began to learn more about myself. I learned what healthy family relationships could look like. I learned about toxic intimate relationships and realized that I had been living in one. I learned that I had likely struggled with depression, oppression, and repression with very little knowledge of these challenges and few support systems to help me move through them. 
As I had these realizations, I began a long personal journey of going to counselling in Canada. Coming from a country where equality was a challenge, I yearned to feel equal to others, to be respected in my relationship and to feel peace in my heart. My counselling journey helped me in so many ways: I learned how to set healthy boundaries, build healthy relationships, and see the beauty of my individuality. I could finally feel a sense of power over my own life.  I started out as a fearful immigrant woman — from an enmeshed family system, who never had the chance to be herself or have a voice — and I grew into someone who learned how to define her values and have true independence for the first time.
My counsellors helped me navigate this path so I could see myself more clearly. I felt supported, understood, less awkward, and more connected to people. 
During my education, I took part in an internship program. I worked with women who were suffering from family violence and living through abusive relationships. I saw couples struggling in their relationships and with their communication; couples who felt lost about how to connect despite the love they shared. It was here that I was able to practice my skills – offering my compassion, care, and knowledge to help these couples recover their intimacy and build better connections. This deepened my interest in supporting couples, especially immigrant couples, who are challenged with both relationship struggles and life adjustment struggles at the same time.
Counselling Philosophy / Therapeutic Approach
My goal is to provide a safe space for you to express yourself fully – you and your needs are the priority.  A non-judgmental approach and unconditional positive regard are my core values as a counsellor. I believe that you need the space to be heard and understood before you can move forward into change. Each person is different – and has unique needs and challenges – therefore, I make use of many modalities so I can cater my approach to each individual client.
The modalities I rely on are:
Adlerian

Existential

Gestalt

Reality & Solution Focused Therapy

Emotionally Focused Therapy

Family Systems

Feminist Approach
Education & Training
Diploma of Professional Counselling (with a focus on family and intimacy in relationships)
Vancouver College of Counsellor Training (VCCT), 2018 – 2019
Masters, English Language and Literature
Tabriz Azad University, Iran, 2011-2015
Continuing Education Workshops:
Existential Analysis 2019-2021

Counseling for Intimacy in Relationship Certificate-VCCT 2022/2023
Availability
I am available for in-person or online sessions on Saturdays (10am-6pm). Sessions can be conducted in English, Turkish and Farsi.
Session Prices
Individual Counselling: $135 including GST for 60 minutes | $190 including GST for 90 minutes
Relationship Counselling: $150 including GST for 60 minutes | $200 including GST for 90 minutes
Reduced Cost Sessions for Iranian Community
Elmira is offering a limited number of reduced cost sessions to Iranian community members who are affected by the current political situation in Iran.
A maximum of 8 online sessions at $65 each are available.
They are available to those who could not otherwise afford private counselling (have financial need for reduced cost sessions & do not have insurance benefits).
Sessions are available in English or Farsi.
Please email Elmira at

[email protected]

for more information.